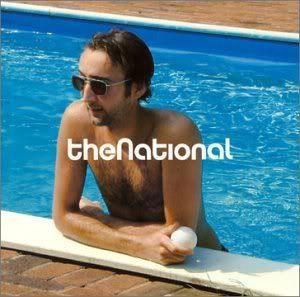 Nearly two years ago, I was down in Sound Cellar about
to buy a ticket to see The National play their first
ever Irish show and the girlfriend and I were heading
down the stairs of Sound cellar when she seen on the
wall a poster for the show and she noticed the date,
19 of November. She quickly informed me what that was
the same date that she was born twenty years previous
and we will be in Limerick for her birthday blowout.
Natural I was gutted since Alligator was up there with
"The Woods" and
"Tender Buttons"
as one of my favourite record
of that year. So two years on and another album out, that
can only be described as Classic, my second chance on
All Souls Day to see for the first time one of my favouite band.
Fuck Yeah.
To celebrate here is their first and worst album, "The National",
but considering the pedigree of their other albums, it's only ok.
I also put up a while ago the excellent "Cherry Tree" Ep
which was a bridge between "Sad Songs..." and Alligator. It still
available
here
.
Buy It
Myspace
Link In Comment.