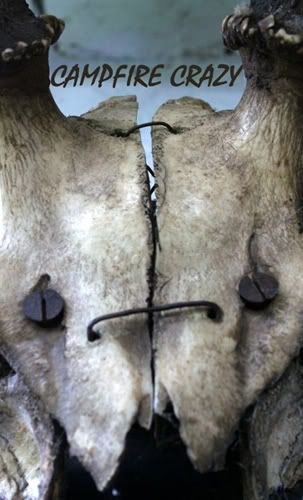 A mix-tape I made for a camping trip to Glendalough. It's one of two
compilations I made to help us on our "trip" in a forest up a mountain.
This one is full of vintage rock n' roll, post rock psychadelica and
primal drumming.
01 Wooody Wooodpecker - Dan Deacon
"Sonic Warrior" Dan Deacon is taking his part
Booji Boy
, part
Animal Collective
craziness to Europe. He plays Crawdaddy, Dublin
on the 17th of August, Liquid Lounge, Cork on 18th and Roisin Dubh,
Galway on 19th. For more tour dates go
here
.
02 Surfin' Bird - The Trashmen
03 - Sheena Is A Parasite - The Horrors
Yes yes, it's just a "Birthday Party" rip off, but i like it. The pop promo
is tastey also, done by mister Chris Cunningham and features Miss
"Morvern Callar" herself, Samantha Morton.
04 Yadnus - !!!
Liken the Sonic Youth reference. These boys are playing Electric
Picnic this year also.
05 Rock N' Roll - The Human League
I pilfered this excellent cover version off Gary Glitter's 1972 hit from
a compilation called "The Trip" compiled by The drummer and singer
of Pulp. The next song and track 12 is also robbed from said mix.
06 The Villain - Lieutenant Pigeon
Full Groove.
07 Atlas - Battles
I didn't go to see these boyos again when they played two months ago.
I just broke my knee and feared I would lose myself when they
kicked into this track. Killer song from a somewhat disappointing
album.
08 Up With People - Oneida
Fuck a duck, if this doesn't get you jumping like a mad thing, i don't
know what would.
09 Broken Toy Soldier - Raconteurs
Love the guitar sound and hypnotic rhythm section on this track.
10 Optical Sound - The Human Expression
Cheers to Spoiled Metropolis for this quality slice of 60's American
psychedelica.
11 There Is An End - The Greenhornes
Got this gem firstly off the Broken Flowers OST. It turns out that
2/3's of the Greenhornes are now in The Raconteurs. The flatmate
was sure this track was in a bond film.
12 Rock on - David Essex
"Who's that?"
"David Essex."
"Butter me arse! The younger, sexier Cliff Richard.
(Long Pause) Is it?"
"Yup".
13 People - Animal Collective
"Yeaaah PEOPLE"
14 Earth (edit) - Joe Henderson
More heady grooves.
15 Lets Not Wrestle Mt. Heart Attack - Liars
They can't seem to do any wrong.
16 Outro - Liars
17 Pacific Coast Highway - Sonic Youth
From Sister, love the threatening rhythms that flow into a psychedelic
soundscape and back again to stabbing guitars. I was lucky
enough to see them play it live once in Glasgow's Barrowlands.
18 Reunite on Ice - Blood On The Wall
Yes yes I know it sounds too much like a Sonic Youth rip off,
but yet again, I like it.
19 Tu doch nicht so - Carambolage
Thanks to Annie's Animal for this track from a sweet sweet 7".
20 Land Of 1000 Dances - Cannibal & The Headhunters
Thats all folks.
Total Time 1:15:42
Cheers and good luck.
h??p://link-protector.com/427294/