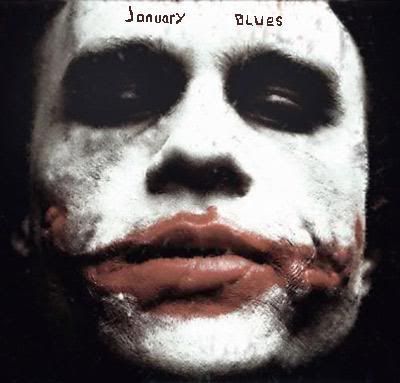 Another month, another mixtape with blues in it's title.
Tracklisting
01 Everything Means Nothing To Me - Elliot Smith
02 Muzzle Of Bees - Wilco
03 Just Like The Rain - Richard Hawley
Video viewable
here
04 In The Morning - The Coral
05 All The Wine - The National
06 Modern Girl - Sleater-Kinney
07 7/4th(shoreline) - Broken Social Scene
Video viewable
here
08 Daddy Never Understood - Deluxx Folk Implosion
Got this of "Kids" OST as well as "The Natural One" but
found a nice video of the song accompenied by footage
of the underrated slacker film "The Doom Generation" by
Gregg Araki. Check out Mysterious Skin by him, which is
also great.
09 Vitamin C - Can
CAN ROCK!!!
10 Black Cat - Broadcast
Video viewable
here
New album out this year. Can't wait.
11 The Natural One - Folk Implosion
Video viewable
here
12 Sorted With Es And Whizz - Pulp
13 Did U Feel It Too - The Go! Team
14 Foolish Harp (Waerera) - The Bhundu Boys
The soundtrack to Tartan video montage of films
at the start of their Vhs.
15 Here We Go (live) - Arab Strap
16 A Ribbon - Devendra Banhart
17 Honey Bunny - Vincent Gallo
There is a really great video of with song, with women
in their underwear spinning around on a revolving floor,
like real life ballerinas in music boxes One of the
ladies is Paris Hilton. He even was a song on "When"
album called "I Wrote This Song For The Girl Paris Hilton".
"Now for ya".
18 Colour Me Once - Violent Femmes
The omly thing good about "The Crow" is this song and the
NIN cover of Joy Division. Speaking of Joy Division...
19 Decades - Joy Division
20 Your Face - Colder
So Good, wonder what he is at this weather.
21 Jc - Sonic Youth
Sonic Youth performing JC on Later with Jools Holland, 1992 viewable
here.
22 I Am - Scott Niblett
Got in to her through he cover of "I Am" album. have a look see
here.
Total Time 1:19:58
Perfect for a CDR
Link In Comments