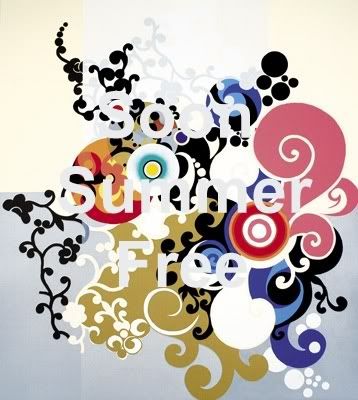 Cover:
Beatriz Milhazes
A Mixtape full of Proggy progressions, brooding
post something and summery hopefulness
Side A
01 Wayward Song - The Earlies
The first Earlies album is spot on, but not to sure about the new one.
This song is a proggy psychedelica with a touch of electronica mixed in.
02 Did You See The Words - Animal Collective
I made my friend Paddy leave Flaming Lips, he hadn't even
seen the lips before and we headed over to these boys in the
hope their would play this song. They just came all over us.
Wanky and pretentious, but this is still amazing.
03 Empire State (Son House In Excelsis) - Mercury Rev
A perfect soundtrack to the film "Man With Movie Camera".
04 Come On! Feel Illinoise - Sufjan Stevens
Same feeling as previous song, industrial but not in a
"Einstürzende Neubauten" way, more in a Steve Reich way.
05 About Today - The National

06 Cherry Tree - The National
Both of 'Cherry Tree' Ep.
07 Heart Of Darkness - Ed Harcourt
Seen him at a festival back in 2002 and got the album
because of this song. A machine dirge of doom and I think
Radiohead nicked the bassline from it .
08 I, Bloodbrother Be (£4,000 Love Letter) -
Shockheaded Peters
I love the melodrama gong ending. I got this track of
Rough Trade's Post Punk compilation. Released in 82,
but still sounds new.

Side B

09 New Year's Pray - Jeff Buckley
His 2nd album would have been amazing, this brooding
track would have been one of it's highlights.

10 In Particular - Blonde Redhead
This song made me buy one of their album.
Hypnotic, looming and so so good.
11 For The Trees - Matmos
Matmos are two fellows who make music using found sounds.
Their did one album using only plastic surgery sounds.
This is breezy ditty is not of that album. This is the a start
of the sun shine section of the mix.
12 On Your Way - The Album Leaf
Great cycling music for our man Jimmy LaValle.
13 Nice Things - Mates Of State
A love the accordion sound over the blips from this husband
and wife combo and as a nice schoolyard chant outro that
goes well with the next track.
14 If Your Feeling Sinister - Belle & Sebastian
Only got in it B.& S. three years ago. "If Your Feeling Sinister"
was the first album I heard and still is my favourite album of theirs.
15 Peng! - Iron And Wine
Ending the mix with a sweet cover of a Stereolab song.
Enjoy and Good Luck.
It's in two part and i don't know how to do split files,
so just chuck the tracks in the part2 folder into the
"Soon Summer Free" folder.
Download "Soon Summer Free" Side A
Download "Soon Summer Free" Side B