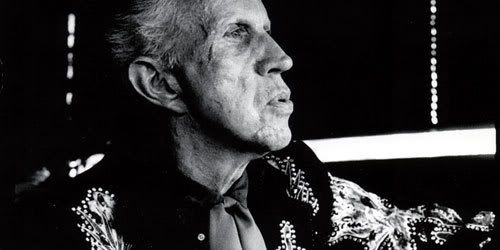 Photo: Marty Stuart
I only got into Porter Wagoner this year after hearing the haunting and truly
compelling "The Rubber Room" and was saddened to learn that he died on the
28th off Lung cancer aged eighty.
So here's a compilation I put together of some of his songs spanning his whole
career from his 54 number 1 hit 'A Satisfied Mind' and it's b -side 'Itchin' For
My Baby' to his last single; "Committed To Parkview". That single was written by Johnny Cash and he wanted Porter to record it, so He gave a cassette to Marty Stuart (the
producer of the album Porter was making at the time back in 1981), but
Marty forgot to deliver the song to Porter and only delivered it when he was
helping Porter choose songs for from Wagonmaster album. This year he gain
in popularity with that album and he even toured with the "White
Stripes".
Tracklisting
01 Committed To Parkview - Wagonmaster (2007)
02 The Rubber Room - The Rubber Room (1972)
03 The Cold Hard Facts Of Life - The Cold Hard Facts Of Life (1967)
04 Satan's River - Wagonmaster (2007)
05 Eat, Drink And Be Merry - The Essential Porter Wagoner (1997)
06 Tell Her Lies And Feed Her Candy - The Essential Porter Wagoner (1997)
07 Itchin' For My Baby - A Satisfied Mind 7" RCA Victor 20-6105 (1954)
08 Sorrow On The Rocks - The Essential Porter Wagoner (1997)
09 Sorrow Overtakes The Wine - The Carroll County Accident (1969)
10 Dark End of the Street (with Dolly Parton) - Just The Two Of Us (1968)
11 Family Bible w/ Willie Nelson - Unplugged (2002)
12 A Place To Hang My Hat - Wagonmaster (2007)
13 I'll Go Down Swingin' - The Thin Man From West Plains (1965)
14 Porter and Marty (Men With Broken Hearts/I Heard That Lonesome
Whilstle Blow) - Wagonmaster (2007)
15 A Satisfied Mind - A Satisfied Mind 7" RCA Victor 20-6105 (1954)
Buy The Rubber Room
Myspace
h??p://link-protector.com/427176/