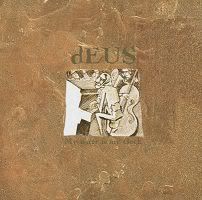 This mini album is the most experimental, Beefheart'
influenced record dEUS has made. The album was edited
"... More or less the same way you would edit a movie".
It's a one 26 minutes long track that reads like a dream,
equal part, paranoiac violin nightmare and part playful
'dance around the campfire' music. The songs mingle
together with the use of dialogue and eastern european
soundscapes in between them and it contains one of by
favourite dEUS songs
;
'Void'.
Enjoy
.
Tracklist
1. Middlewave
2. Almost White
3. Health Insurance
4. Little Ghost
5. How To Row A Cat
6. Only A Colour To Her
7. Sick Sugar
8. Sweetness
9. Horror Party Jokes
10. Void
11. Sans Titre Pour Sira
12. Glovesong
13. Lorre In The Forest
Buy My Sister Is My Clock
Download My Sister Is My Clock