"List seven songs you are into right now. No matter what the genre,
whether they have words, or even if they're not any good, but they
must be songs you're really enjoying now, shaping your spring. Post
these instructions in your blog along with your 7 songs. Then tag 7
other people to see what they're listening to."
Well the lovely folks over at ljudlandskap have kindly added me to this,
so here seven songs that I've been slowly obsessing about. I didnt
change the album names or track numbers, but preferable you would
played in the order printed.

You Injured Me - HTRK
I first heard of this aussie band when they were suppose to play with
Liars back in November. They didnt but looked them up I did anyways
and glad I did. Heres one reason why.
HTRK's Myspace

Heart And Soul Dub - Jah Division
I can't get enough of their Ep, Dub instrumentals of Joy Division with
the almight Kid Millions on drums, Sweet Sweet Sweet.
Jah Division's Myspace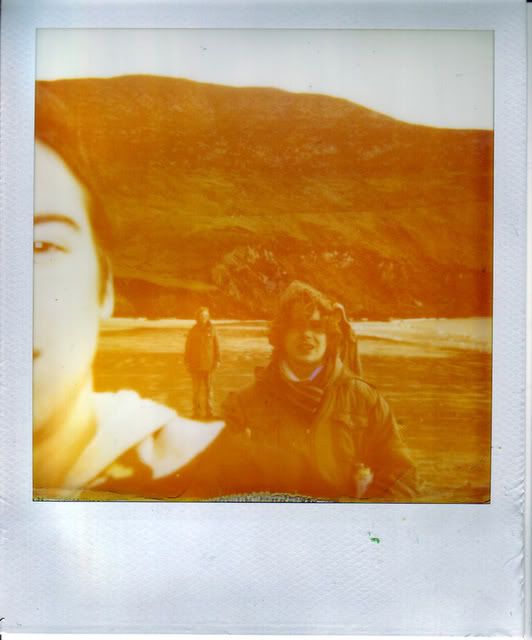 Sweet Little Rocker - Joe Dolan
When on a camping "Trip" in the furtherest western point on Achill Island of
Mayo, skinny dipped in the the sea the following morn, jumped straight into
the car and wrapped ourselves in sleeping bags as kev drove away and this
song came rushing out from the radiowaves. It was so cold, that it started
to snow but Joe kept us warm, good times.
Joe Dolan's Myspace

O - Atombook
A joyous nostalgic alt-country ditty from South Korea, reminds me of watch
"Little Home On The Prairy" every sunday afternoon as a child. Thats a good
thing, by the way. I don't know how they only have 50 friend on their myspace,
if you like this song as much as I do, maybe add yourself to them.
Atombook's Myspace

You Came to Me - Beach House
Missed them last night, it was sold out but got to seen Sonic Warrior and
Deerhunter both for the third time instead. This track is taken from their
ratter beautiful but flawed second album, "Devotion". Well it was always
going to be hard to surpass or even equal their debut.
Beach House's Myspace

Maya - Incredible String Band
Still the only track I have of this crowd. 10 minutes of sitar soaked folk
brillance. Taken from there 4th album Wee Tam and the Big Huge.
Incredible String Band's Myspace

Big Jim - Ivor Cutler
Still can't get enough of Mister Cutler... "with that poignant sadness
in his voice that has all the fathers of heavily-built daughters from
Thrwn to Aberfeldd shaking in their shoes."
Ivor Cutler's Myspace

And I tagged the following fellows,
Carrie White Burns In Hell, Physics Of A Unicycle, Egoeccentric,
Kevin Roddy, A Fault Chromosone, Channel One and Simon Bookish.