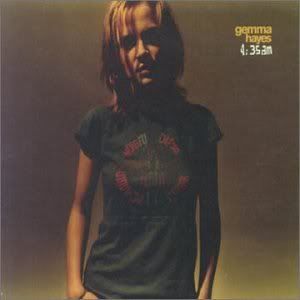 So rich and close Gemma Hayes guitar sounds that it resonated like she is in the room with you. Her First two Eps are arguable the best things she's done. Her first album is slightly more poppy in tone but is still amazing.
"4.35am" EP is a darker affair compared to the "Work To A Calm" EP but both have a lush M.B.V. end of summer feel about them. So put the headphones on and find a bit of grass to ly on.
I couldn't find any videos for songs from these EPs but she did to a song with Magnet a cover of Lay Lady Lay which is viewable
Here
.
Otherwise here is the irresistible single "Back Of My Hand" of her great first album "Night On My Side" to get a feel for what she's like.
Buy 4.35am Ep
Buy Work To A Calm Ep
Myspace
Link In Comment.